CANADA WOMANS RUGBY RANKED #4 IN THE WORLD. MENS RANKED #22 (Nov 2019)
Sportlomo is the technology supplier for Rugby Canada's National Registration and League, Game andC ompetition Management for the Provinces. Canadian Rugby Users include Rugby Canada, British Columbia, Ontario, Nova Scotia, Alberta, Saskatchewan, Manitoba, Quebec, New Brunswick, Newfoundland and Prince Edward Island.
Rugby Canada, Ireland Canadian Ambassador and SportLoMo announce partnership
RUGBY CANADA ANNOUNCE NEW TECHNOLOGY PARTNERSHIP TORONTO, JUNE 1, 2017
"SportLoMo will serve as Rugby Canada's official technology supplier for the National Rugby Registration system and Member Management Platform. SportLoMo is a leading global sports technology company, headquartered in Ireland.  Myles Spencer, Chief Operating Officer of Rugby Canada."This strategic business partnership will offer Rugby Canada's community the benefit of a robust technology solution designed to streamline the administration of our evolving sport."
SportLoMo Present at Rugby Canada AGM
SportLoMo Engineering Team Lead, Noreen McManamon presented at Rugby Canada's AGM on Friday 26th April.
Left to Right: Nina Mittendorf, Noreen McManamon and Noël Woodward outside Rugby Canada Headquarters.
SportLoMo marks Rowan's Law Day (Sept 25th 2019)
SportLomo joins our friends in Canada Rugby by wearing purple to honour the memory of Rowan Stringer, "Rowan's Law Day' is commemorated this year on Wednesday September 25th 2019.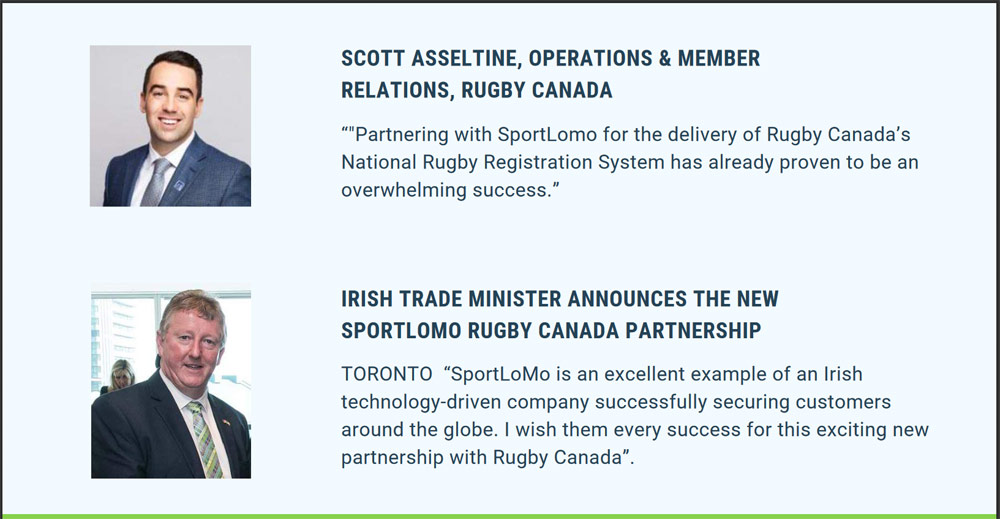 Over $10 million Canadian dollars will be processed this year by Rugby Canada on the Sportlomo platform
SportLoMo
An online Sports Technology platform. Fully integrated, multi-lingual software for sports at every level from National, Federation, Association & leagues. Clubs love us too.
One platform, one solution, no third-party systems.
View Sportlomo Corporate website here
Address
SPORTLOMO
HQ in Castlebar, Mayo, Ireland.
Canada, USA, UK & Australia